We conclude our look back at the very first screening of the Jon Pertwee story 'The Ambassadors of Death' on satellite channel UK Gold, with the omnibus edition of episodes 5-7, shown at 9.00am on Sunday 23rd May 1993...

This video contains the following highlights:
End credits of

Dog House,

a Canadian comedy about (you guessed it) a dog which ran for just the one season during 1990-1991... with a really horrible theme tune, don't you think?

UK Gold ident (Goldie)

Caption -

Doctor Who

: Next on UK Gold

Run down of Sunday evening's programming

Promo for

Barnaby and Me

, the 1977 family film comedy about a talented Koala bear which followed the Who omnibus at 10.20am, screened as part of the channel's Weekend Film Festival strand - UK Gold must have had a thing about imports starring animals...

UK Gold ident (Rug)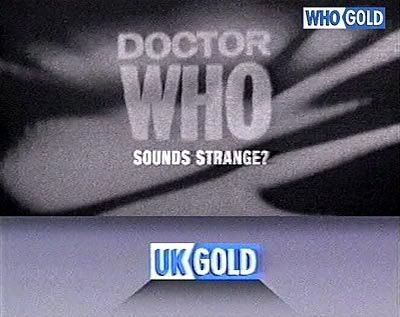 Sounds Strange?

- the continuity announcer issued an apology for the poor sound quality of episode 5 - I'm surprised they didn't apologise for the horrible picture quality! The first couple of minutes of the episode are included for you to experience just how awful the film print was.

All of the bumpers aired either side of the ad-breaks - complete with a rather tacky 'wipe' transition from holding slide to episode (and vice versa).

Episode 7's closing credits - complete with a plug for next week's story "The Inferno" (sic) and BBC Video's commemorative 30th anniversary VHS releases (Terror of the Autons and Silver Nemesis).


Thanks for visiting - please leave your comments, they're always appreciated! Next week, we travel forward to 1995 for a meeting with the Nestenes...