Silly Barbara. You'd think as a history teacher she'd have a bit more sense about her. Sure, she knows more about the Aztecs than the rest of the TARDIS crew, but using that knowledge of their culture to interfere with history as she knows it? In the words of the First Doctor, what that girl needs is a jolly good smacked bottom!
Doctor Who: The Aztecs
Sunday 15th November 1992
UK Gold - 9.55am-11.40am
UK Gold launched on Sunday 1st November 1992 as a joint venture between Thames Television and the BBC, transmitting many rare and classic series to those lucky to have satellite dishes. Excitingly, Doctor Who was one of them, and so the 1964 story The Aztecs, which had been absent from British TV screens for over 28 years, was one of the Time Lord's first adventures to be screened by the channel...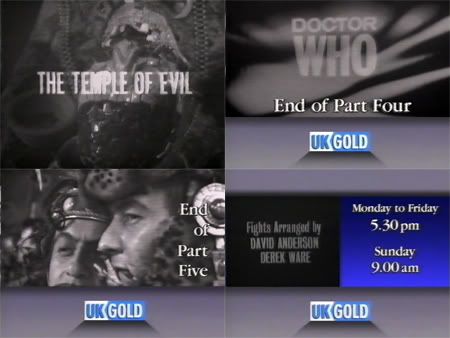 The Aztecs was originally shown over four weekday afternoons from Tuesday 10th to Friday 13th November 1992 at 5.30pm, but this recording come from the omnibus edition which aired on Sunday 15th November 1992 between 9.55am-11.40am, immediately after an omnibus screening of the third Hartnell story, The Edge Of Destruction (or Inside The Spaceship, if you're that way inclined). Incidentally, The Daleks and The Keys of Marinus had not been aired at this point, due to an issue over royalty payments with writer Terry Nation.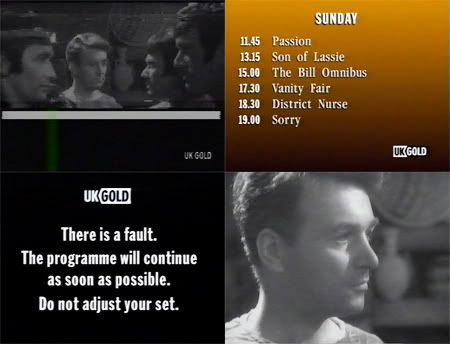 Shortly after the final advert break, leading into the second half of The Day Of Darkness, UK Gold ran into difficulties and there was a short break in transmission - watch the video above to see what happened!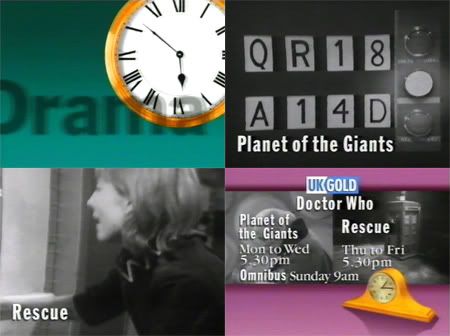 A trailer for season two's
Planet Of Giants
and
The Rescue
- or
Planet Of The Giants
and
Rescue
as UK Gold were calling them -
was screened at the end of the story. Annoyingly for regular viewers, many of the Hartnell stories were not shown in original broadcast order, which made the cliffhanger at the end of
The Aztecs
totally irrelevant. It would be another five and a half years before the story received
another screening on UK Gold...
Many thanks to new contributor
Rich
who got in touch and supplied these clips - you'll be seeing more from his VHS tapes in the coming months!
WhoGold
returns in two weeks time with more classic continuity on Sunday 26th June 2011.