Hear me, for this is WhoGold, greatest shaman, Speaker Of Law. The great god Xoanon demands that you sit back and watch the video below. Cursed be those who can't be arsed, for they shall be thrown to the Horda... so watch it...
Doctor Who: The Face Of Evil
UK Gold - Sunday 13th February 1994
10:00am-midday
Seventeen (or is that Sevateem?) years after its solo outing on BBC1, The Face Of Evil reappeared on the archive repeats channel UK Gold in its original episodic format on successive weeknights from Thursday 13th to Tuesday 18th January 1994, with an omnibus screening following a month later on the morning of Sunday 13th February 1994. Here's clips of the Sunday screening, complete with Glen Allen continuity and a unique trailer for Season 15's The Sun Makers which aired the following evening.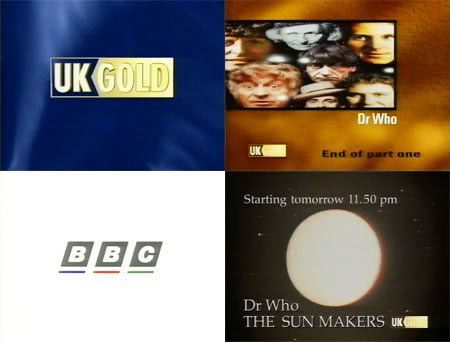 Spawn of the Evil One, go forth to your master and do not return until 25th September 2011 when there'll be more old clips and stuff. Until then, may Xoanon be with you.