The blog with the dog. This week - Axons! Axonite! It's all the same thing, really.
The initial screening of Jon Pertwee's tenure as the Doctor on UK Gold was not just incomplete (blame Terry Nation) but ridiculously out-of-sequence, which meant that the Third Doctor was yo-yoing back and forth through his personal timestream during 1993; one week he was stuck on Earth fighting the Master with UNIT's latest recruit Jo Grant, the next he was travelling back in English history in a fully operational TARDIS to do battle with a Sontaran with Sarah-Jane Smith! Confused? Very probably. The eventual running order went:
(2) Dr Who and the Silurians
(5) Terror of the Autons
(11) The Curse of Peladon
(17) Carnival of Monsters
(3) The Ambassadors of Death
(22) Invasion of the Dinosaurs
(24) The Monster of Peladon
(25) Planet of the Spiders
Random eh? Following the Third Doctor's swansong in late August 1993, UK Gold moved onto the Tom Baker era; the missing Pertwee/Dalek stories (Day of the Daleks, Planet of the Daleks and Death To The Daleks) eventually made their debut in December 1993 and January 1994. But let's go back a little and take a look at what was the very first screening of The Claws of Axos on British television in over 22 years...
Doctor Who: The Claws of Axos

Sunday 21st March 1993
As this was a Sunday showing, the episodes were shown in an omnibus edition with the opening titles of episodes 2-4 and the closing credits of episodes 1-3 removed. As usual, the ad-breaks were slotted in between episodes and half way through the final instalment.
In some ways UK Gold was really ahead of its time, as they regularly shrank the closing credits of their programmes in order to pass on schedule information. This has (regrettably) become standard practice in 2010, but in this case at least it proved worthwhile, as viewers were informed that there would be no omnibus the following Sunday, but to cushion the blow, a second helping of 'Dr Who and the Silurians' would begin a new run of weeknight episodic screenings. The omnibus editions would return a few weeks later on 18th April 1993, once the weeknight showings had caught up, and on-screen continuity announcements were ditched later that year.
Bookending the Who omnibus that morning were the following trailers, presented here for your entertainment:
SUNDAY
(run down of the evening line-up)
Film:
NOEL COWARD'S MEET ME TONIGHT
THE HITCH HIKERS GUIDE TO THE GALAXY
AROUND THE WORLD WITH UK GOLD
(competition questions and details on how to enter)
THE KENNY EVERETT TELEVISION SHOW
Film:
THE BULLDOG BREED

after the next programme (Meet Me Tonight)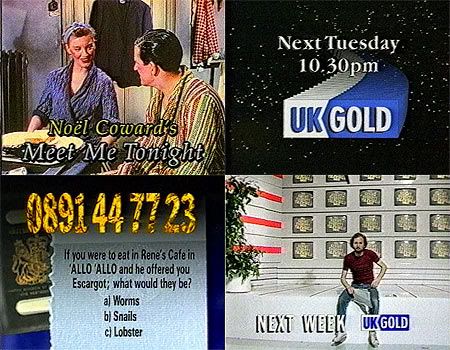 Thanks for watching. And reading. And visiting. Come back next Monday!