This might not be the sexiest thing in the world. Okay, this is just minutia gone mad. But I'm sure some of you will find it interesting reading...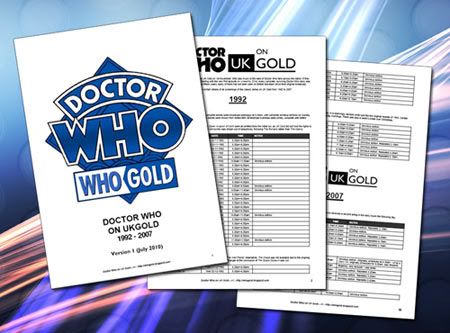 The WhoGold guide to every single screening of classic series Doctor Who on UK Gold from November 1992 to April 2007... fifteen years, hundreds of omnibus editions and thousands of hours of great TV. And all this information is available to download in one, single PDF file...
Months of work has gone into this - big thanks have to go to Benjamin F. Elliott, telefantasytimes, David Brunt and Stephen (sarah's dad) for their invaluable help in compiling this initial version.
This guide is fairly exhaustive but by no means complete though, so please do get in touch if you notice any mistakes or have new/correct information to share. I'd especially love to hear from you if you noted down the times of repeats during 1999 and 2000. Hopefully an updated second edition will be made available not before long.
Enjoy! And don't show to the Not-We, they wouldn't understand.