The title of this week's Doctor Who Omnibus is a bone of contention for many fans. Do you call it
Inside The Spaceship
? Or is it
The Edge Of Destruction
? Or even
Beyond The Sun
? I bet there's one person who even calls it
TARDIS Cutaway
. Well, I'm hedging my bets on this one, so I'm opting for my own title:
Beyond the Inside of the Edge of the Brink of Destruction.
Simples.
Although UK Gold started their first Doctor Who re-run off with the surviving stories from the Hartnell era in November 1992, they decided to miss out black and white stories completely when the second run began in early 1995. So, after the omnibus edition of
The Keys Of Marinus
aired one Sunday morning in February 1993, viewers would have to wait over five years for another Hartnell story to appear on the channel...
So, in 1998, UK Gold went back to the start and aired all of Hartnell and Troughton's existing stories, mostly on Saturday mornings between June and November 1998, following which they went back to the very first episode
An Unearthly Child
on Friday 4th December 1998.
Beyond the Inside of the Edge of the Brink of Destruction
aired two weeks later, on Friday 18th December 1998 between 12.35am-1.25am. The continuity announcer that evening was Peter Offer.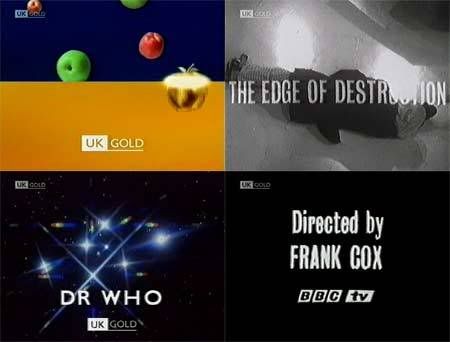 Those of you familiar with this two-parter will notice the final scene, leading into the (very sadly missing) story
Marco Polo
was not transmitted; this is very probably down to BBC Enterprises, who supplied UK Gold with edited library copies of their programmes.
That's it for this week - if looking back at these old clips has got you in the mood to watch the complete story, check out BBC Worldwide's YouTube page, where both
The Edge Of Destruction
(part one) and
The Brink Of Disaster
(part two) are waiting for you... no need for UK Gold any more, eh?