Well, here we are, it's the final
WhoGold
video of 2011, and what better way to finish the year off than with some clips featuring the effortlessly brilliant Patrick Troughton, broadcast at the very end of the 20th century...
The classic season six story The Seeds of Death was screened in an edited omnibus format by satellite channel UK Gold on Friday 17th December 1999 from 12.25-2.50am, although you would right to say it was on so late it was in fact the very early hours of Saturday 18th December 1999... either way, it was the final Doctor Who story from the 1960s to be broadcast on television in the 20th century.
Unusually, UK Gold wasn't the only television channel showing classic Doctor Who episodes at the time, as BBC2 were revisiting the Jon Pertwee era on Tuesday teatimes, with Spearhead from Space and Doctor Who And The Silurians getting their first terrestrial screenings for almost 30 years. Sadly these BBC2 repeats were not to last, and unfortunately the same was true of the black-and-white stories on UK Gold...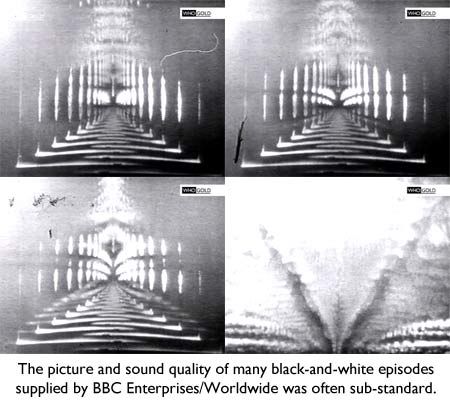 Following a two-week break for Christmas and the dawn of the new millennium, UK Gold rounded off the Second Doctor's era with the epic 10-part swansong The War Games, split over two Friday nights (7th & 14th January 2000); and so bringing to an end the very last regular repeats of 1960s Doctor Who on British television to date. Only a handful of Hartnell and Troughton stories have appeared on our screens over the last decade...
An Unearthly Child part one - UKTV Drama, 14th July 2007
The Daleks - UK Gold, 5th March 2003 & BBC Four, 5th-9th April 2009
The Dalek Invasion of Earth - UK Gold, 5th March 2003
The Chase part 4 - UKTV Drama, 14th July 2007*
The Chase part 5 - UKTV Drama, 14th July 2007 & 15th July 2007*
The Time Meddler - UK Gold, 23rd November 2003 & 26th March 2005
The Tomb of the Cybermen - UK Gold, 22nd November 2003
The Web of Fear part 1 - BBC Four, 26th June 2004 & 18th March 2007**
*yes, parts 1-3 and 6 were never shown. How bizarre!
**never shown on UK Gold, who only screened complete stories.
Well, that's yer lot. If you have been, thanks for visiting WhoGold throughout 2011, and many thanks go to all the contributors who help keep this blog going - as a result, there'll be plenty more to see in 2012. Happy New Year!