With the special edition DVD release of that old friend Day Of The Daleks only days away, it seems like a good time to take a look back at a UK Gold broadcast of the story - so, grab a glass of good-humoured wine, help yourself to a slice of gorgonzola cheese and let's get started...
Doctor Who: Day of the Daleks
UK Gold
Saturday 15th March 2003
1:35am-3:25am (repeated 7:15-9:00am)
Already familiar to many fans due to its early VHS release in 1986, season nine story Day of the Daleks was first screened by UK Gold during Christmas 1993, and would appear a further ten times (whenever Terry Nation didn't want more royalties, of course). During this 2003 broadcast, in the very early hours of Saturday 15th March, promos for Waking The Dead, Only Fools and Horses, Sharpe and UKTV Style's Diarmuid Gavin (no, me neither) Day were shown during the commercial breaks.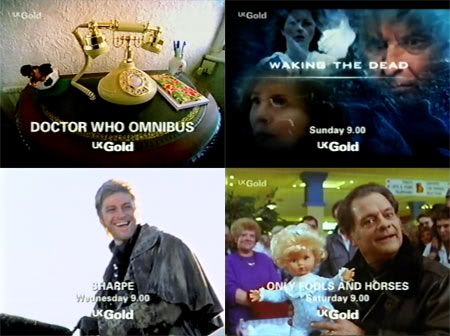 Thanks to
kinggodzillak
for providing these clips! I'll actually be watching the brand new special edition on
the big screen
in London next weekend - RHIP and all that - so
WhoGold
will return with a new video in two weeks time, on Sunday 11th September 2011.