Hello! Right, where were we? Oh yes, Doctor Who Weekend on UK Gold! November 1993. Great times. We've covered Saturday's viewing last week, so let's crack on with the Sunday... hope you like trailers...
Doctor Who Weekend on UK Gold
Sunday 21st November 1993
10.00am-midday, 1.00-2.30pm
The 30th anniversary celebrations continued with the Favourite Monster category; continuity announcer Glen Allen revealed the winners to be The Silurians and The Sea Devils - wot, no Daleks or Cybermen? Fix! Naturally, the Peter Davison story Warriors Of The Deep
(10.00am-midday) was chosen, airing for the first time
on British TV since 1984. Following the conclusion of the story were four UK Gold trailers:
Great Expectations
(the 1981 BBC serial, directed by Barry Letts - Starts today 5.30pm)
The Dick Emery Show
(Tonight 7.30pm)
FILM: The Picture Show Man
(Tonight 8.10pm)
FILM: The Hill
(Tonight 10pm)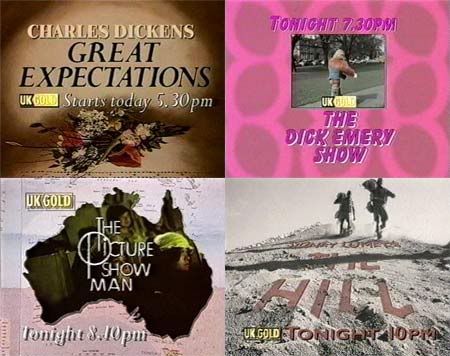 UK Gold often screened 'fillers' between scheduled programmes; these were usually short cartoons such as Popeye or The Pink Panther Show, or previews of upcoming shows. Before the next scheduled programme, Terry Nation's Survivors, Glen Allen introduced "an extra programme", a short silent film called A Spy Undone or Treachery At The Embassy. There doesn't appear to be any information about it on t'internet whatsoever, but given the age of the material I'm assuming it was out-of-copyright and therefore free for UK Gold to air... better than the test card, I guess! A further five trailers aired before Survivors finally started:
Lifestyles Of The Rich And Famous
(Tonight at 6pm)
Campion: Death Of A Ghost
(starring Peter Davison, Next Saturday 8pm)
FILM: Across The Pacific
(Next Saturday 10pm)
FILM:
Broadway Danny Rose (Next Sunday 10pm)
FILM: Caddie
(Next Sunday 8.10pm)
Guess what UK Gold showed after Survivors? Yes, more trailers! You love 'em though, don't you? Course you do.
FILM: The Hill
(Tonight 10pm) - longer version
The Bill
(Weekdays 9am and 10pm)
Top Of The Pops
(Weekdays 11pm)

Viewers were then rewarded (highly subjective, I know) with a special screening of the spin-off K9 And Company (1.00-1.55pm), starring Elisabeth Sladen and John Leeson. Why so special? Well, it had not been repeated since Christmas 1982 (it was eventually released on BBC Video in August 1995). The weekend then wrapped up with a repeat of the documentary Resistance Is Useless (1.55-2.30pm), which had been broadcast on BBC2 the previous year. Regular programming then continued with an episode of Ronnie Corbett sitcom Sorry!, followed by an omnibus edition of The Bill. Doctor Who returned to UK Gold the following day with a screening of episode 5 of The Chase starring William Hartnell, but that's for another time...
Many thanks to Ad and Mike, who made this entry possible by providing their VHS recordings - wonderful chaps, both of them!
See you next week for a trip to the circus...