Many Doctor Who fans grew up with the repeats on UK Gold. The technical quality of the episodes wasn't always great (even worse if it was raining or snowing outside) and the scheduling of them was pretty anti-social at times, but the magic of the stories and performances always shone through. A new generation of children discovered the show through those repeats and were thrilled by it, leading them to the books, the merchandise, the magazine... I know, because I was one of them.
You would think that 20th century Who would still have a place on British television, what with the plethora of digital channels available - not to mention the huge amount of interest in the series thanks to the New Series - but sadly not, save for special occasions. More's the pity.
This week's clips comes from an screening of the very first Doctor Who story,
An Unearthly Child,
on Friday 4th December 1998 (12.30am-2.05am)...
The channel's broadcasts of Doctor Who were often presented in an 'omnibus' format - to avoid airing each individual episode separately, they were edited together to form a feature-length version, with commercial breaks placed at the end of each episode (with closing credits removed). Usually episode cliffhangers were either edited together smoothly, but in some instances whole shots would be removed. For example, in the early days of the show, the Next Episode caption was usually shown over the final shot - UK Gold edited these captions out, and so the unique close-up of Kal staring right into the camera at the end of
The Forest of Fear
was completely removed.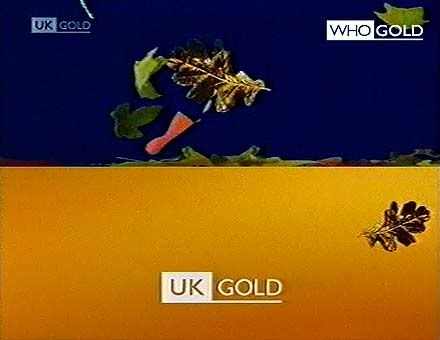 Peter Offer was the continuity announcer that evening, and a generic holding slide (a still of the Sid Sutton title sequence) was used either side of the scheduled commercial breaks, placed mid-way through each episode. A screening of the very first episode of Blake's Seven,
The Way Back
, followed at 2.05am.
Come back for another slice of nostalgia next Monday!