Hello! Thanks for stopping by. Well, Christmas is coming, so over the next few weeks, we'll be looking back at a few Doctor Who stories which were shown on British satellite channel UK Gold at "the most wonderful time of the year" - first up, let's go back to the final day of the year 2000, where the Third Doctor is on the telly, meeting Sarah Jane Smith and the Sontarans for the very first time...
Doctor Who: The Time Warrior
Sunday 31st December 2000
Now coincidentally, The Time Warrior was originally screened on BBC1 over Christmas and New Year 1973. Full of trivia, this blog, eh? But back to the year 2000, when the story received two screenings on Sunday 31st December; first in the usual morning slot on UK Gold (7.50-9.40am), then later on sister channel UK Gold 2 (6.00-7.50pm). Here's how the day panned out on Gold:
5.00am Ask The Family (2 episodes)
6.00am Dad's Army
6.50am Blake's Seven
7.50am Dr Who Omnibus
9.40am Knots Landing Omnibus
11.30am FILM: Herbie Rides Again (1974)
1.15pm The Bill Omnibus
4.25pm FILM: The King And I (1956)
7.00pm Wallace And Gromit: The Wrong Trousers
7.40pm Only Fools And Horses: Modern Men
9.00pm Bottom (12 episodes back to back)
4.45am Only Fools And Horses: Modern Men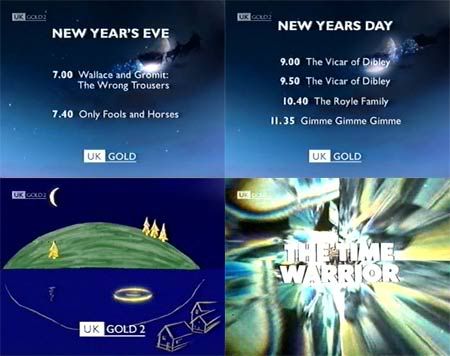 This off-air VHS recording is from the UK Gold 2 broadcast - I expect I was sound asleep when it went out on Gold that morning, haha - and includes the start-up, a rather lovely animated seasonal ident, two promos for New Year's Eve and New Year's Day evening programmes, and of course, full continuity. So go on, get watching! See you on December 19th for more Christmas continuity...