Welcome to WhoGold, the blog for nostalgic Doctor Who fans, nostalgic TV enthusiasts and nostalgic ex-employees of UK Gold. Probably.
Planet Of Evil
was screened from Friday 4th to Wednesday 9th July 1997, with fan favourite
Pyramids Of Mars
following from Thursday 10th July to Tuesday 14th, all at 7.20pm. Elisabeth Sladen (Sarah Jane Smith) introduced the opening episode of each story. Continuity is presented by Susanna Boccaccio and Glen Allen.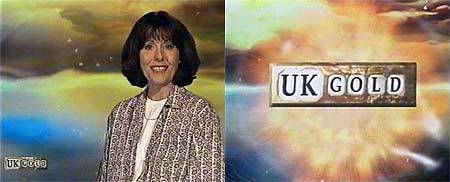 More clips of Lis introducing Doctor Who on Gold are here, exclusive to this blog:
If you've got any recordings of UK Gold from the old days, please get in touch via the Comments section below, I'd love to hear from you. Bye for now.