Tell Dexeter, we've come full circle! Oh, and tell the Doctor to lock that bloody TARDIS door! After all, if he had then Adric wouldn't have been able to stowaway and we would've been spared Matthew Waterhouse's for the next ten stories! Sigh. Hartnell would never have left it unlocked...
Kicking off the classic E-Space trilogy, Full Circle first appeared on UK Gold in its original four-part episodic format, screened from Wednesday 25th to Monday 30th May 1994 at 11.50pm (incidentally its first screening on British TV in almost 13 years). A few weeks later, an omnibus edition of the story aired on Sunday 10th July 1994 at 10.00am, when UK Gold looked like this:
9.00am The Aphrodite Inheritance
10.00am Dr Who Omnibus: Full Circle
11.50am The Pink Panther Show (unlisted in TV guides)
12 noon Blake's Seven: Seek-Locate-Destroy
1.00pm FILM: Blithe Spirit
6.00pm All Creatures Great And Small
7.00pm The Magnificent Evans
7.35pm The Dick Emery Show
8.00pm Dallas (double bill)
9.50pm Carrott Confidential
11.30pm A Kick Up The Eighties
12.10am Lenny Kravitz - In Concert
2.10am Shopping At Night (closedown)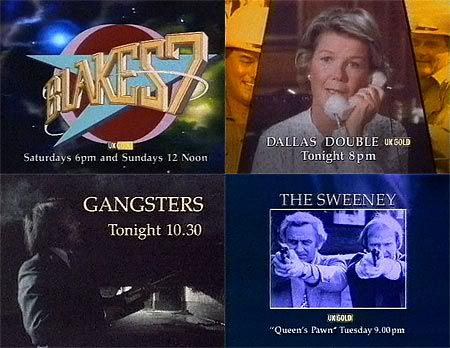 Trailers for Dallas (8pm), Gangsters (10.30pm) and The Sweeney: Queen's Pawn (Tuesday 9pm) aired shortly before Glen Allen introduced "Tom Baker as Doctor Who in Full Circle"; that's what I call no nonsense continuity. A rather neat trailer for Blake's Seven (Sat 6pm & Sunday 12 noon) was aired following the end credits at around 11.50am.
Seventeen years later and you don't have to get up on a Sunday morning to catch up with the Doctor, thanks to DVDs and the internet - in fact, you can watch episode one of Full Circle right now, thanks to BBC Worldwide and YouTube!
Thanks for passing by! WhoGold will return on Saturday 29th January.