The Tachyon Recreation Generator - no, not a progressive rock band from the Seventies, it's the title of this week's video! Let's go back to 1994 when Tom Baker's final season as that curly haired loon arrived on satellite channel UK Gold... and if you're a
Doomwatch
or
Blake's 7
fan, there's something of interest for you too...
An omnibus edition of
The Leisure Hive
aired on Sunday 26th June 1994, directly after an episode of the BBC 1979 drama
The Aphrodite Inheritance
. Between the two,
The Duchess of Duke Street
and the film
Gigi
were previewed. Continuity was - as ever - provided by Mr Glen Allen.
Following the Doctor's depature from Argolis, there were two further promos for programmes making their debut on UK Gold; one for the
The Sweeney (
soon to debut on Tuesday 12th July), the other for 'The Plastic Eaters', the very first episode of the classic BBC environmental drama
Doomwatch,
written and created by Cybermen co-creators Kit Pedler and Gerry Davis. You can read more about the
Doomwatch
UK Gold repeats - and the unfortunate cuts that were made! - at the superb
Doomwatch.org
website. Following those promos, UK Gold had a treat in store for fans of Roj Blake...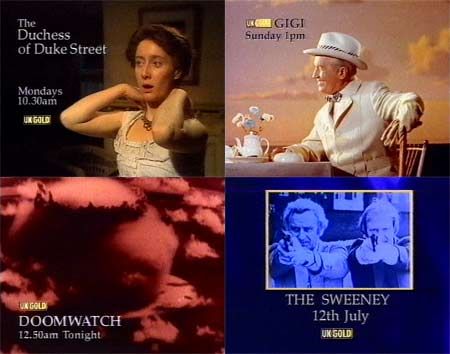 Prior to a screening of series one episode 'Time Squad', the channel aired a short feature with actors Gareth Thomas, David Jackson and Jacqueline Pearce all talking about
Blake's 7
- the item is included in the video above for your viewing pleasure! Another of these little featurettes is available to view at
Glen Allen's YouTube
page, along with two promos for the series.
And that's it for this edition! Be sure to come back next Sunday for another helping of Doctor Who and Blake's 7 on UK Gold - just like the old days...