It's the middle of November 1992 and only a fortnight since the launch of a unique satellite channel co-owned by the BBC and Thames Television. UK Gold has resurrected dozens of classic television programmes for a new generation of fans and good old Doctor Who is one of them. And they've gone right back to the earliest episodes...
Doctor Who: The Edge Of Destruction
UK Gold - Sunday 15th November 1992
9:00-9:55am
Set entirely within the walls of the TARDIS, The Edge Of Destruction was the second Doctor Who story to be screened on UK Gold, just before teatime on Friday 6th and Monday 9th November 1992. The above clips, however, come from Sunday 15th November 1992, when the story was repeated as part of a double bill with The Aztecs.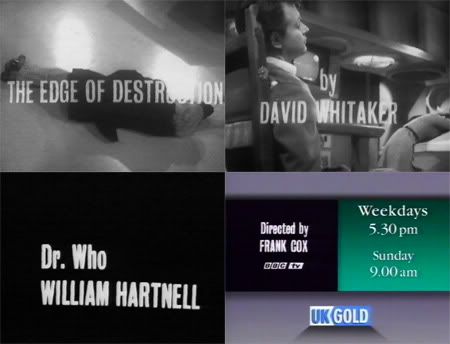 The end credits of the opening instalment and the opening titles of the concluding segment were removed for this 'omnibus' version, along with the cliffhanger ending (this made sense given that the following story, Marco Polo, was entirely absent from the BBC archives). Also, as UK Gold was a commercial channel, two advertisement breaks were placed halfway through each episode, with captions as seen below:
A trailer for drama programming on Mondays was screened directly afterwards, containing clips from
Shoestring, The Duchess of Duke Street
and
The Bill.
Then, at 9.55am, UK Gold continued their morning of classic Doctor Who
with a screening of The Aztecs
. As for
The Edge Of Destruction,
it would be at least five years before it turned up again - you can see some clips from one of its 1998 broadcasts
here
.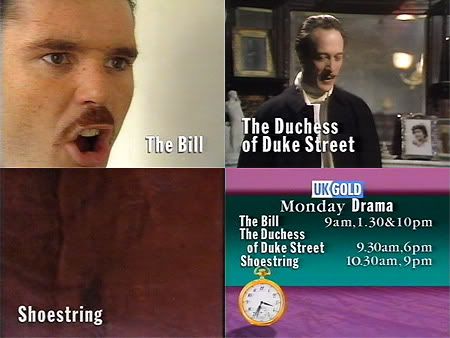 Many thanks to regular contributor
Rich
for providing clips from his original VHS recording. Perhaps you taped some episodes and still have the tapes tucked away? If so,
WhoGold would love to hear from you.
And that's it - for now...