Hailed by many as one of Doctor Who's finest hours, season seven story
Inferno
was originally shown in seven weekly parts on BBC1 from 9th May to 20th June 1970. The story was never repeated and the original videotapes wiped for re-use a few years later, leaving the BBC with a single set of inferior black and white film recordings made for overseas sales. Not cool.
Luckily for us, a colour copy of Inferno was returned to the BBC from Canada on videotape, albeit in a converted 525-line NTSC format. It wasn't the greatest quality, but having the original colour back was invaluable. The final episode of the story was included as part of
The Pertwee Years
VHS released in spring 1992, but it wasn't until May 1993 that the entire story would be made
legally
available to fans, when UK Gold dusted it off for screening in both episodic and compilation formats...
Here, from the omnibus screening on
Sunday 30th May 1993
(scheduled for 9.00am to 12.10pm) you can see the 'coming next' trail, the UK Gold ident leading into the titles and all the cliffhangers and bumpers for the commercial breaks. Sadly, the end credits are not available to include this time.
However, as a bonus there are two trailers for the first part of the Tenko Reunion (the two-hour special was cut into two parts for its transmission on UK Gold on 4th and 11th June 1993), a promo for the Sunday night film 'The Mean Season' and a better quality version of the Soaps promo which we included as part of our
Planet Of Giants
package a couple of weeks ago.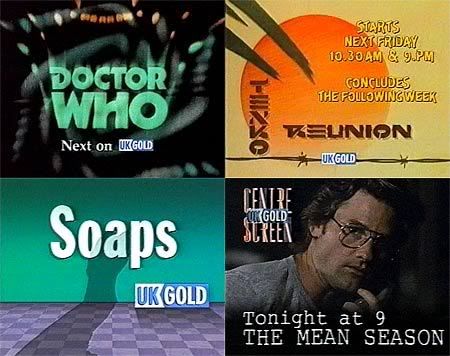 A little bit of trivia to end on: the Canadian videotapes included an additional scene in episode 5, featuring the surviving characters in the Brigade Leader's office listening to a radio broadcast; the scene was cut from the original BBC1 transmission in June 1970 because it was felt Jon Pertwee's voice (an impression of Lord Haw Haw) was too identifiable. When UK Gold transmitted episode 5 shortly before midnight on Tuesday 25th May 1993, it was in fact the very first time the scene in question had been aired on British television... and it wouldn't be the last.
The clips you've been watching were kindly donated by one of our regular visitors, so if you have any recordings of Doctor Who from UK Gold, why not share them? You know you want to!