Welcome to
WhoGold,
the ultimate trip down memory lane for long-term Who fans who remember staying up late or getting up early to follow the Doctor's many adventures on analogue satellite channel UK Gold! If you're visiting for the first time, please check out the links to the left of the page for lots of clips, there's plenty to see and much more to come over the next few months...
This week's blog features clips from an omnibus edition of the season eight story
Colony In Space,
aired on Sunday 7th May 1995 - appearing here almost fifteen years to the day!
Once again these clips come from an
unedited VHS recording kindly provided by Mike, to whom we're continually grateful.
Continuity announcer Glen Allen introduced the story as it kicked off
at
9.15am, following an edition of
The Pink Panther Show
and a trail for the Sunday film
Genevieve.
The holding slide used either side of the ad breaks features the faces of all seven Doctors taken from BBC Video's promo for the 30th anniversary releases - well,
almost
all of their faces, you can only see the Seventh Doc's hat! The poor guy always had a tough time of it, bless him.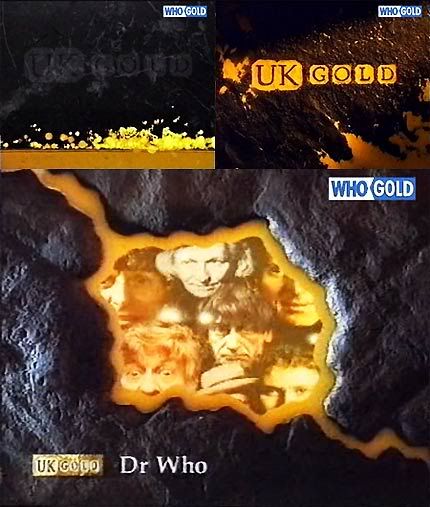 Also included are a selection of promos for other programmes in UK Gold's schedules - who says we just care about Doctor Who?
Miami Vice: Tale Of The Goat (9.00pm Tonight)

Edge Of Darkness: Part 1 (10.00pm Tonight)

A Sense of Guilt (9.00pm Monday)

Soaps - Prime time all the time

A lovely and 'clean' UK Gold ident prior to Blake's 7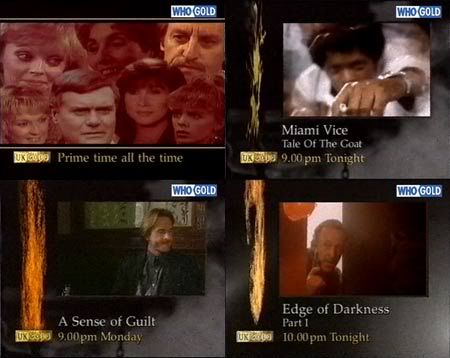 Thanks for looking, see you next week!