Every serious fan of Doctor Who remembers the very first time they taped the show - it's just part and parcel of the whole experience. Early fans made off-air audio recordings of episodes during the 1960s - recordings that have since become priceless and we're forever grateful for - but things got really interesting with the advent of home video recording in the early 1980s. I know that many fans of a certain age will have started making off-air copies with The Five Doctors on that Friday night in November 1983. Others will have started a little later on with Colin or Sylvester, some with the unique BSB weekend, others with the BBC2 repeats in the early 1990s...
... and many of us began our journey with UK Gold. For me, it was the summer of 1997, and episode one of Robot, screened on Monday 2nd June 1997 at 7.20pm. And it was brilliant! Every weeknight and Sunday morning I would tune in to see the Fourth Doctor battle a whole host of formidable adversaries; Davros and his Daleks, Miss Winters and her Giant Robot, Michael Sheard and his giant space prawn... okay, forget that last one.
My very first tape contained the two-parter
The Sontaran Experiment
(12-13 June) and omnibus editions of
Horror Of Fang Rock
(15 June) and
The Invisible Enemy
(22 June 1997). Being the nostalgia addict I am, I never recorded over or threw the recordings away, but sadly the years have not been kind to them. Still, the idents, holding slides and classic Glen Allen continuity are still fun to look back at. Just don't adjust your graphics settings, the quality really is that dodgy...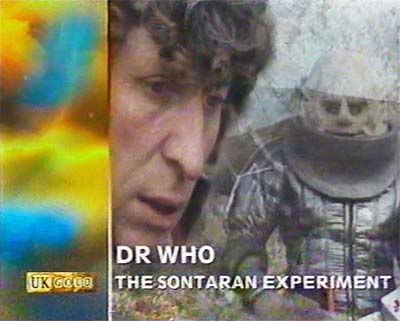 Holding slide for
The Sontaran Experiment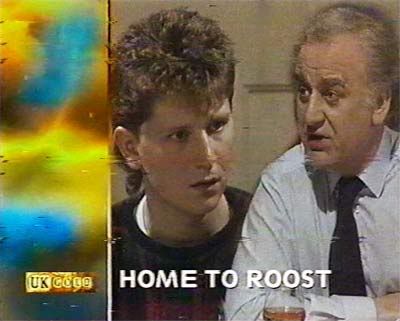 Holding slide for
Home To Roost
- this comedy programme was shown directly after Doctor Who, but only a few frames of the slide made it onto the tape before my finger pressed STOP...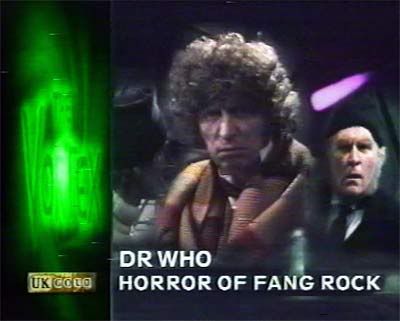 Holding slide for
Horror of Fang Rock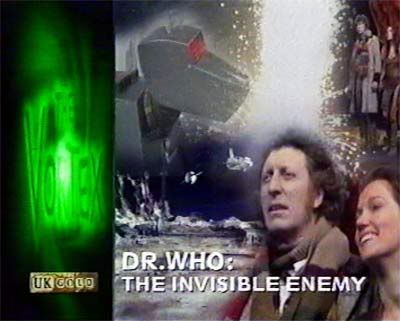 Holding slide for
The Invisible Enemy
If you've got any old tapes with this stuff on, leave a comment and let's see if we can share the memories! Hope you enjoyed indulging your nostalgic side - see you next time.