3, 15, 30 and 100. What do these numbers mean? Well,
The Stones Of Blood
was not just the 3rd story of the 'Key To Time' season, but the 100th televised Doctor Who adventure, originally broadcast in the lead-up to the programme's 15th anniversary! And this is WhoGold's
30th
video. Aren't numbers fun?
UK Gold screened an omnibus version of the story on
Sunday 1st May 1994
, sandwiched between episodes of 1978 BBC drama serial
A Horseman Riding By
and the Terry Nation sci-fi series
Survivors
. During the two-hour slot, UK Gold aired promos for three films shown later that day -
The Million Pound Note
(1pm),
The Emerald Forest
(8pm) and
The Mean Season
(10pm) - as well as a look at the Sunday evening line-up: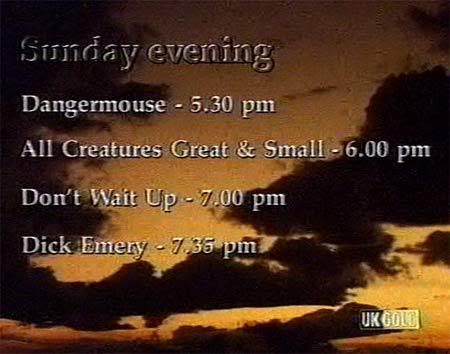 A short segment of
The Dick Emery Show
, in a sketch featuring Victor Maddern (best known to Who fans as Chief Robson in the lost story
Fury From The Deep
) was shown between
Who
and
Survivors
- these 'Comic Cuts' as announcer Glen Allen called them often filled in gaps in the channel's schedules.
Thanks for watching! If you have any recordings of UK Gold -with or without Doctor Who - we've love to hear from you. Bye for now...