Welcome back to WhoGold, remembering the times we sacrificed our Sunday morning lie-ins to spend time with the Doctor on UK Gold...
The Monster Of Peladon
was screened twice on UK Gold during the summer of 1993 - once in all its original episodic glory, then in two Sunday morning chunks for the omnibus edition...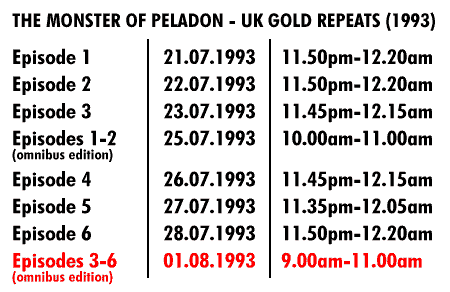 The video above comes from a recording of the omnibus edition of episodes 3-6, broadcast from 9.00am on Sunday 1st August 1993. The 'junctions' either side of Doctor Who that day contained nine trails, which are included for your viewing pleasure:
Ballet Shoes
(Next Saturday 5.30pm)
Pride And Prejudice
(Tonight 6.00pm)
Miss Marple: Body In The Library - Part 3
(Tonight 8pm)
The Six Wives Of Henry VIII
(Tonight 9pm)
Glen Campbell: In Concert
(Sunday 11.45pm)
Crashout
(Sunday 12.30pm)
Ballet Shoes
(Next Saturday 5.30pm - different to earlier version)
Rory Bremner
(Sunday 10.45pm)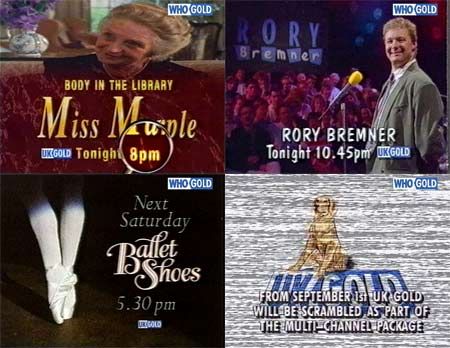 Viewers were also warned that from September, UK Gold would no longer be free-to-air on satellite and cable, becoming part of the new Sky Multi Channels package. Bloody Murdoch eh?
Thanks for looking in! More memories next week.