VWORP! VWORP! VWORP!
We seem to have landed, dear readers! Yes, yes, according to the read-out on the console we're on the planet Earth - deja vu? Oxygen normal... air pressure fine...
economy looks a bit weak... and
the date is Saturday 20th November, but wait... in the 21st century? The year 2010! Oh dear, we can't stay here, there's no classic series episodes on TV in this time period! I tell you what, I'll adjust the controls for this day seventeen years ago, I'm sure there'll be some Doctor Who on the telly there...
Doctor Who Weekend on UK Gold
Saturday 20th November 1993
UK Gold celebrated the programme's thirtieth anniversary on the weekend of 20th and 21st November 1993, with screenings of three complete four-part stories, three single episodes, the spin-off K9 And Company and a repeat of the 1992 BBC2 documentary Resistance Is Useless.
Viewers were invited to vote
for their favourite Doctor, Companion and Monster, and there was a special competition to win a TARDIS cabinet containing "every BBC Doctor Who video ever released", with unnamed prizes for runners-up. The competition question was "How many Doctors have there been in the BBC tv series?" with 5, 6 or 7
given as the three possible answers.
Quite simple really, as any true fan would know the correct answer was 7, unless they were choosing to forget Sylvester McCoy, as some do...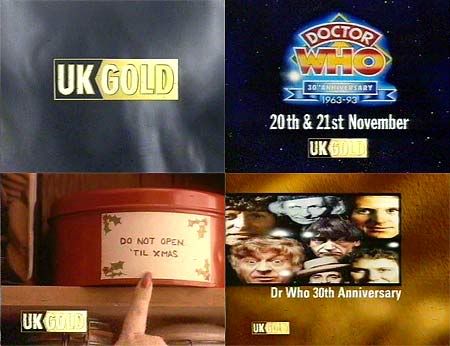 We'll take a look at the Sunday line-up next week, but for now, it's Saturday 20th November 1993! The weekend kicked off with UK Gold continuity announcer Glen Allen announcing Tom Baker as the winner of the Favourite Doctor category; an omnibus edition of Warrior's Gate (9.05-11.10am) was then screened. This was the first sighting of the story on British television since its original broadcast in January 1981 (UK Gold's regular repeats did not reach season 18 until May 1994).

At 11.10am, after a promo for
Top Of The Pops
(weekends 6.50pm), the winner of the
Favourite Companion
category was revealed to be K9 (with Sarah, Leela and Romana as runners-up) and season 17 story
The Horns of Nimon
(11.10am-1.15pm) was then shown for the very first time on television since its original BBC1 transmission.
Rounding off Saturday's Doctor Who programming were a trio of regeneration episodes, specifically episode 10 of
The War Games
(1.15-1.45pm), episode 6 of
Planet Of The Spiders
(1.45-2.15pm) and finally, episode 4 of
Logopolis
(2.15-2.45pm). The third episode of
The Tenth Planet
was originally scheduled in the 2.15pm slot, but was ultimately replaced for Logopolis (which actually featured a regeneration scene), to the disappointment of many fans; the surviving episodes of
The Tenth Planet
have
still
never been shown anywhere on British television since their original October 1966 transmission.
Finally, there's a promo for Terry Nation's Survivors (Thu 7pm/Sun 12pm) and a look ahead to Sunday...

Big thanks must go to Ad and Mike for providing their VHS recordings of the weekend, and the folks at
Roobarb's Forum
for their help and encouragement! See you next week, when our look back at UK Gold's 30th anniversary Doctor Who Weekend continues...