Doctor Who
is one of many classic television series decimated by the junkings at the BBC during the Sixties and Seventies. In 1977, the BBC Film Library appointed Sue Malden as its first Archive Selector. Upon reviewing the library's holdings, Sue and her team discovered that just 47 of the 253 black-and-white episodes of
Doctor Who
produced during the 1960s had been retained. Season three was almost completely missing, with only
The Ark
episode 3 and
The Gunfighters
episode 4 held on 16mm film - just two episodes out of forty-five! But what could be done?
Investigative work carried out by an enthusiastic fan called Ian Levine revealed that BBC Enterprises – the commercial division of the BBC who sold programmes to foreign TV stations – also held a significant number of
Doctor Who
episodes, including complete editions of
The Ark
and
The Gunfighters
. By the end of 1978, Sue Malden had the film cans transferred to the Film Library for permanent storage. Further episodes from season three were recovered during the next decade, including all four instalments of
The War Machines,
increasing the total number of episodes in existence to fifteen. Still not great, but far better than two...
In late 1992,
the three complete stories from season three were selected for repeat
transmission by satellite channel UK Gold. Love it or hate it,
Doctor Who
fans were delighted to see
The Gunfighters
on their televisions for the first time since 1966.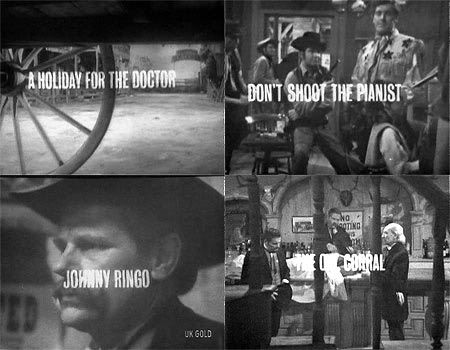 The story first aired episode by episode on consecutive weekday afternoons from Thursday 31st December 1992 to Tuesday 5th January 1993, following early editions of the Australian soap
Neighbours
:
Doctor Who: The Gunfighters (episodic)
UK Gold
Thursday 31st December 1992 to Tuesday 5th January 1993
5.30pm-6.00pm
As UK Gold was a commercial station, advert breaks were placed mid-way through each episode.
The final shot of episode 4 (the appearance of a savage on the TARDIS scanner) and its caption 'Next Episode: Dr Who and the Savages' were cut from UK Gold's copy, and the original closing credits replaced by computer-generated captions. Presumably these amendments were made by BBC Enterprises, as the subsequent story
The Savages
is missing from the archives and therefore unavailable for purchase. The next available story,
The War Machines
, was trailed at the end of the final episode, 'The O.K. Corral'.
Doctor Who: The Gunfighters (omnibus)
UK Gold
Sunday 10th January 1993
9.00-11.00am
On the morning of Sunday 10th January 1993, UK Gold gave
The Gunfighters
a second outing, sandwiched between an episode of
Rentaghost
and a movie version of
The Man From Uncle.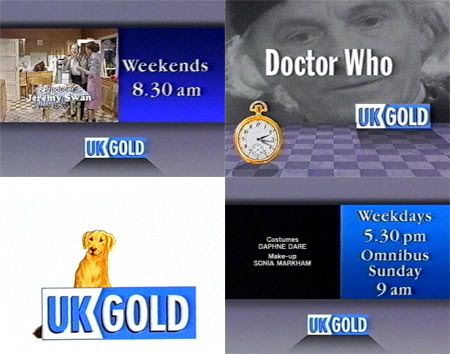 As it was an omnibus edition, the opening credits and captions for episodes 2-4 were removed, along with closing captions and credits for episodes 1-3. Once again, advert breaks were placed mid-way through each episode.
In the junction between
Rentaghost
and
Doctor Who
, UK Gold trailed the trio of movies for Sunday, namely the aforementioned
The Man From Uncle
movie,
Clarence The Cross Eyed Lion
and
Educating Rita
.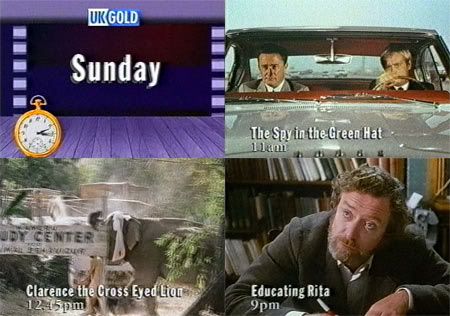 Many thanks go to
our old friend
Mike
in Huddersfield, and new contributor
Ben
- be sure to check out his brilliant
YouTube
and
Dailymotion
channels for plenty more vintage continuity. For the whole of November, WhoGold will be returning to its weekly format for a comprehensive look back at UK Gold's
Doctor Who @ 40
weekend! So, see you back here on Sunday 6th November 2011...