I always enjoyed reading the new TV guide when I was a kid, flicking forward to the satellite pages to take a look at what UK Gold were showing that week (okay, I was a weird kid). On a typical Sunday in late 1994, UK Gold aired Button Moon, The Chronicles of Narnia, Blake's Seven, Big Deal, One By One, The Pink Panther Show, Triangle, The Bill, The Dick Emery Show, The Secret Diary Of Adrian Mole, Sykes and, of course, Doctor Who. All in all, a pretty mixed selection of programmes, many of which aren't repeated any more, or easy to find on DVD.
Now, on this very day in late 2010, G.O.L.D are showing five hours of The Royle Family, six hours of The Green Green Grass, and almost seven continuous hours of Only Fools And Horses. It can't be denied that two of those shows are extremely popular and well-loved, but they're repeated endlessly, and all readily available to buy on DVD. Just think of all those treasures locked away, gathering dust in the archives of the BBC and ITV, while the same programmes are shown week after week on G.O.L.D. A wasted opportunity, but I guess money and ratings are more important than culture and integrity.
Anyway, let's get down to business...
Doctor Who: The King's Demons
"A Doctor Who double" was in store for viewers on Sunday 30th October 1994, with Glen Allen introducing the very first omnibus screenings of The Kings' Demons (9.15-10.00am) and The Five Doctors (10.10am-midday), but not before promos for the film Escape To Burma (1.00pm Today) and the dramas Triangle and Campion (12.20am/12.50am Tuesday night), featuring Peter Davison and Kate O'Mara.
During the junction between the two stories, promos were screened for Some mother's do 'ave 'em (6pm Tonight), Dallas (8pm Wednesday and Sunday), Colditz: Missing Presumed Dead (10.30pm Tonight).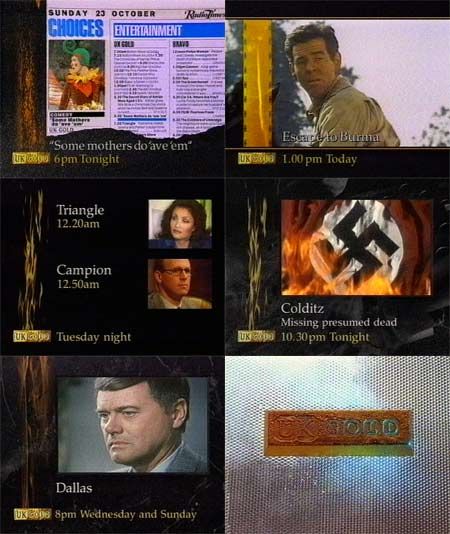 Many thanks to Mike in Huddersfield once again for providing the off-air VHS recording. If you enjoyed this week's video and have recordings of your own, why not get in touch like Mike did? Many of the clips featured so far are only available thanks to the generosity of visitors, like the two kind fellows who recently provided off-air recordings from 1992 and 1993 - coming soon! So go on, get looking for those tapes!
See you next week for some more classic continuity, exclusive to WhoGold.