Stop me if you've heard this one before...
There's this Englishman and this Australian hitch-hiking, right, and they end up in Amsterdam, the European capital of sex, drugs and, er, tulips. Anyway, the Australian bloke is meant to be meeting up with his cousin, but they're a day early, so they go round all the youth hostels, only to find they're all full up! Both are too tight to fork out for a Travelodge, and even worse, the English bloke's only gone and lost his bloody passport! He doesn't want to get deported, so the Australian takes him to this old crypt underneath this big old spooky looking house. Dunno why, but the English bloke isn't happy about it, but he gets talked into staying there. Anyway, in the middle of the night, the Australian is woken by a strange wheezing, groaning sound - no, not what you think - and a really bright, white light! So he goes for a look, and this big bastard alien chicken comes out and shoots him with a ray gun, and...
... aww, you know it already.
Doctor Who: Arc Of Infinity
UK Gold - Sunday 13th October 2002
1:00-2:50am and 7:10-9.00am
Season 20 opener Arc Of Infinity was repeated no less than eleven times on satellite channel UK Gold between 1994 and 2005. These clips come from a 2002 broadcast, during which trailers featuring Sharpe, The League Of Gentlemen, 'Allo 'Allo!, Porridge, Keeping Up Appearances, Dad's Army, Auf Wiedersehen Pet and the Star Trek film First Contact were shown.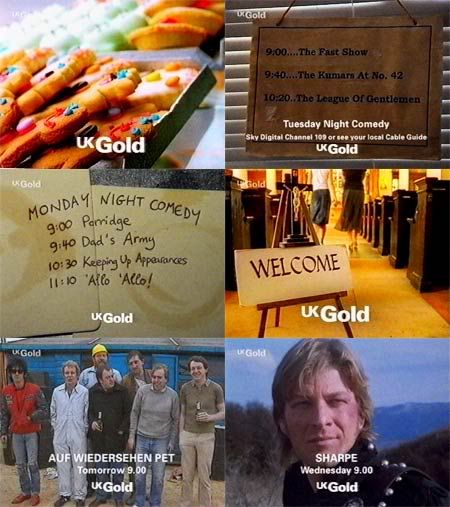 Thanks for visiting! WhoGold will return on Saturday 26th March with a bumper crop of clips featuring the daft old man who stole a magic box.