I'm sure you'd like to know,
We're at the start of a great big WhoGold blog...
Nah, doesn't quite work, does it? Ah well, on with the show...
Doctor Who: The Greatest Show In The Galaxy
Sunday 19th January 1997 (UK Gold, 11.10am-1.00pm)
During January 1997, Sylvester McCoy's era was being screened as part of The Vortex, UK Gold's science-fiction strand on Sunday mornings. Prior to the omnibus edition of 1988's The Greatest Show In The Galaxy, the channel aired trailers for All Creatures Great And Small (Weekdays 4pm), The Bill (Monday 10pm) and Boon (Tuesday 9.30pm). Presenter Glen Allen then appeared in-vision to introduce the story. All the cliffhangers and 'bumpers' are included - there was no continuity announcement over the closing titles, so they're been left out. Enjoy!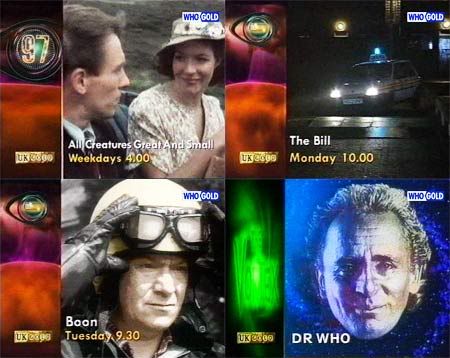 Thanks for visiting! But before you go...
It's cold outside, the country is blanketed with snow and ice, and the festive season is almost upon us, so it's only right that for the next few weeks WhoGold will be taking a look at Doctor Who stories shown as part of UK Gold's Christmas/New Year schedules; next week, it's The Time Warrior from New Year's Eve 2000... until then, keep warm!