I remember the morning of Sunday 12th June 1999 being pretty glorious as far as the weather was concerned; beautiful blue sky, the sun shining, the wind in my hair. Not a typical Sunday morning, for during my teenage years, one would usually involve me dragging my knackered self out of bed at the crack of dawn, barely alive and blurry eyed, hurrying downstairs with a blank videotape and a bowl of Weetabix, drawing the curtains and tuning into UK Gold for one of the highlights of the week: the Doctor Who Omnibus. A few hours of brand new Doctor Who. Brilliant!
But why not just set the VCR timer and have a lie-in, you ask? Well, I didn't want to record the adverts (oh the irony!) and back in those days blank tapes were relatively expensive to a teenage lad who never had enough pocket money. A pair of four-part stories would just about fit onto a three hour tape, occasionally with a little blank tape left to record something Who related, like Tom Baker on some chat show, talking about ironing and bosom-tingling, you know what I mean. You know, the more I think about it, the stranger my teenage years seem. But I digress.
So, as the family and I spent the sunny weekend of Sunday 12th June 1999 sunning ourselves in sunny Fleetwood, our VCR was entrusted to record Doctor Who: The Sun Makers...
As well as the usual continuity and slides, check out some nice little trailers including clips from Shooting Stars, Red Dwarf VII, Open All Hours, Fawlty Towers, Ask The Family, Porridge...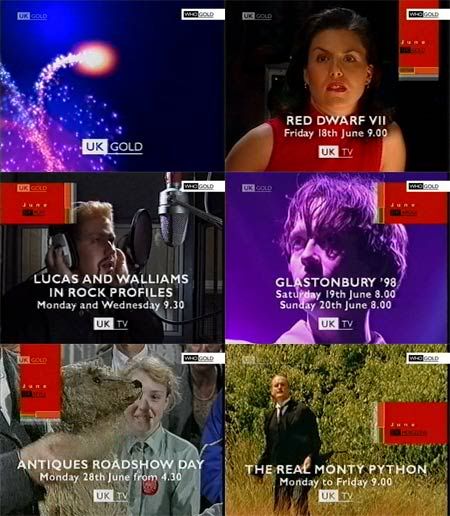 ... The Good Life, The Thin Blue Line, Keeping Up Appearances, The Antiques Roadshow, Rock Profile, Bottom, etc etc...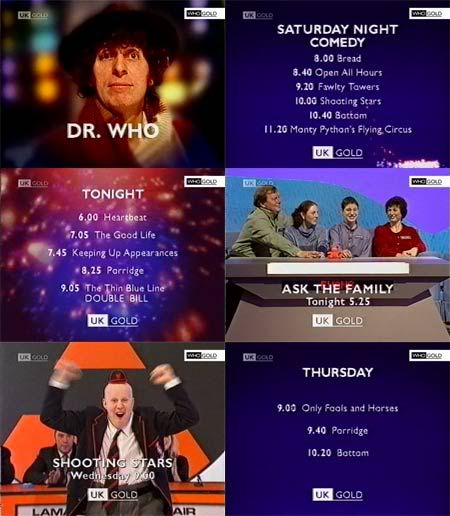 There's also continuity for the programmes that followed Doctor Who, namely A Word With Alf (a series of short comedies made in 1997 featuring Warren Mitchell as Alf Garnett) and American soap drama Dallas.
And that's yer lot! See you on Sunday 23rd April for more WhoGold.