Death To The Daleks
, Jon Pertwee's third and final television encounter with the dreaded Daleks, received no less than ten screenings on British satellite channel UK Gold, in both episodic (December 1993 & August 1995) and omnibus editions (January 1994, August 1995, March 1997, January 1999, January 2001, April 2002, April 2003, and finally in May 2003).
The clips above come from the morning of Sunday 3rd January 1999, and feature both opening and closing continuity announcements, as well as each advert break with the Jon Pertwee-specific holding slide used at the time (a publicity shot from The Three Doctors, pictured below). The story showing on the Friday, for the 'late night fans' as the announcer calls them, was The Keys of Marinus, part of what was - to date - the final run of Hartnell and Troughton repeats on British television.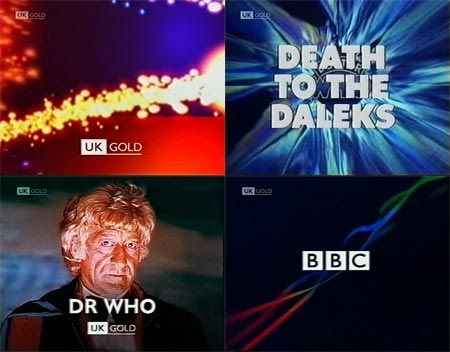 WhoGold
is always looking for more recordings of Doctor Who episodes aired on UK Gold between 1992 and 2007, so if you or anyone you know has old VHS tapes or DVD recordings (preferably unedited), then please get in touch! Many of these bits and pieces are only here due to the generosity of contributors, so whatever you do, don't throw them away!