Welcome to WhoGold, at what is a truly heartbreaking time for Doctor Who fans everywhere, as we try to come to terms with the unexpected and tragic loss of our beloved Sarah Jane Smith, the one and only Elisabeth Sladen.
Voiceover artist and former UK Gold presenter Glen Allen has kindly provided us with a short tribute video, complete with a never-before-seen, untransmitted clip of Elisabeth in the UK Gold studio during 1997, recording links to camera; it's fascinating footage, through which her warmth, humour, professionalism and modesty shine through. Other clips featuring Lis in the UK Gold studios can be found at the links below:
Revenge of the Cybermen / Terror of the Zygons
Planet Of Evil / Pyramids Of Mars
The Android Invasion / The Brain of Morbius
The Seeds of Doom / The Masque of Mandragora
Elisabeth Sladen was not only a fine actress, but a brave, courageous and beautiful person, who will be sorely missed by everyone she has over the years. Quite simply the greatest "Who girl" of them all, and our thoughts and prayers go out to her friends and family at this desperately sad time.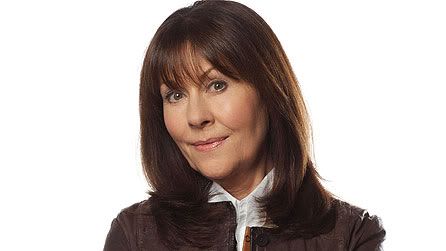 We won't forget you.
WhoGold will return with a new video on Saturday 30th April.