It's Dodo Chaplet's first trip into the future, and within a couple of hours she almost destroys the last remnants of the human race and their Monoid servants, eventually causing the former to suffer hundreds of years of tyranny and oppression under the rule of the latter. The Doctor really needs to start locking the TARDIS doors...
It's late afternoon on Christmas Day 1992 and UK Gold are pulling out all the stops to bring viewers a day of festive treats. Sandwiched between episodes of
Neighbours
and
The Brothers
, it's
The Steel Sky
, the opening episode of the 1966
Doctor Who
story
The Ark
... hmm, I think this is what timer recording was invented for...
But don't worry, UK Gold have got a great line up festive programmes for Christmas night, including
Eastenders, Tenko
and
The Bill
. Merry bloody Christmas!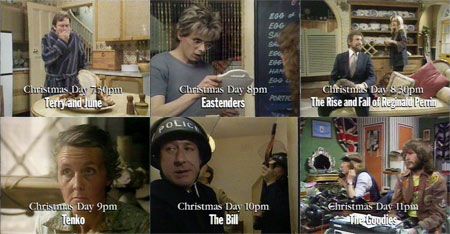 The second episode,
The Plague
, went out on Monday 28th December 1992, alongside Christmas editions of
Terry And June, After Henry
and
George And Mildred
. As you'll see from the video above, the picture quality of the telerecording left a lot to be desired, but it was nowhere near as bad as the third episode...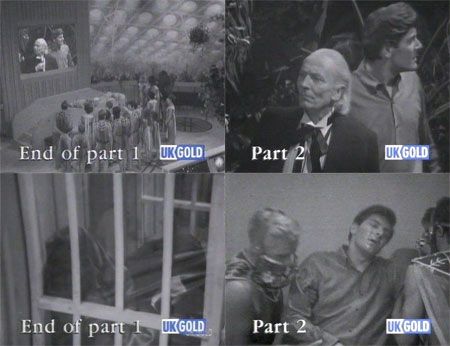 So, the Monoids take a surprise lead at the end of the first leg with the all important away goal. Will they be able to hang on and cement their victory? Or can the humans make a remarkable comeback with the aid of their 12th man, The Doctor? It's a game of two halves in what is turning out to be a real relegation six-pointer and there's all to play for in The Return leg, which kicks off in two weeks time, on Sunday 13th May 2012... yes, I've got football on the brain. MUFC for the title!