Ah, it's you again! Good to see you. Before we carry on, I'm afraid I have to come clean about something. You may recall a couple of weeks ago
WhoGold
presented you with some rare clips of
the time UK Gold broadcast Shada
, back in October 1995. Well, as some of you may have realised, it was all an elaborate April Fool's joke! The unfinished story has never been on the telly, so the video was a fake; it's amazing what you can do with a computer and access to t'internet. A big thank you goes to the one and only Glen Allen, who kindly spared time to contribute the authentic continuity. So, were you fooled? Or was it too obvious? Leave a comment below...
Doctor Who In An Unexciting Adventure With The Mutants
first appeared on UK Gold during June 1993, giving the story its first UK broadcast for almost 19 years. I'm not fibbing this time, promise! The video above contains trailers and continuity from the episodic screenings of the first four episodes, shown late weeknights from Thursday 3rd to Tuesday 8th June 1993.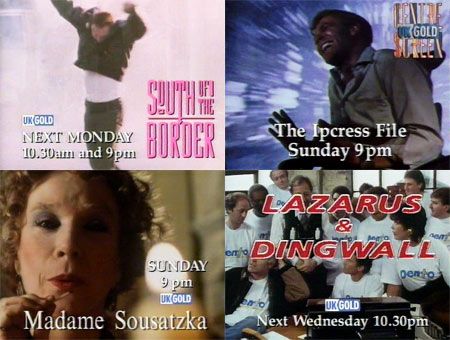 In between episodes, you'll see trailers for forgotten shows South Of The Border and Lazarus and Dingwall, a short-lived BBC comedy from 1991 starring Stephen Frost and Mark Arden (who you may remember from the old Carling Black Label adverts of the 1980s), not to mention the films Madame Sousatzka and The Ipcress File. There's also slides and continuity for UK Gold's 'Movies Around Midnight' (see pic below).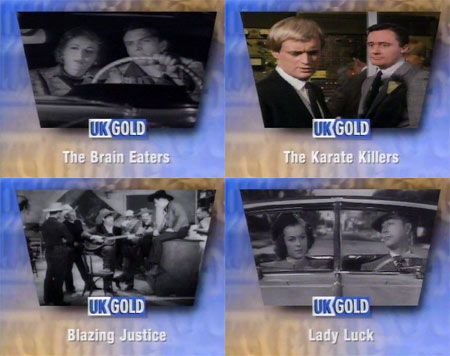 Many thanks to
benriggers
for providing the VHS tape - you can find lots more classic TV continuity by visiting his
YouTube
and
Dailymotion
channels. Next time, on Sunday 29th April, we go slightly further back to January 1993, for a rendezvous with the Refusians...